Date: 15/07/2021
How to Stretch a Canvas
At some point in time, almost every type of textile has been used as a surface for artists to express themselves. Common examples include cotton, linen, hemp and many others. Among these is "canvas", a fabric made from plain-woven cotton and highly sought after for its durability.
What is a stretched canvas?
Canvas paintings are thought to have come into existence somewhere around the 16th century. History suggests it was the preferred method of Venetian painters looking for an easy way to create artwork in a highly humid climate.
However, once the artwork was completed, the challenge shifted to finding a way to properly display it for all to see. Hence, canvas stretching was developed. To achieve this, the fabric is pulled over a set of stretcher or strainer bars and secured to the frame. This allows the artwork to be easily displayed or hung on a wall.
Canvas stretching is also necessary for preparing a canvas for framing. More on that later.
Types of canvas
Over four centuries later and we have come a long way since the Italian Renaissance. There are now several types of canvas available for creating artwork, each with its positives and negatives.
A rolled canvas is the most common type of canvas used for stretching today. It is also referred to as cotton duck canvas and be differentiated by a tight, heavy fabric weave that is at less risk of damage or breakage and is better suited to painting.
Other types of canvas available for use include:
Dyed canvas
Fire-proof canvas
Printed canvas
Stripe canvas
Water-resistant canvas
Waterproof canvas
Waxed canvas
Depending on the artist or owner's preference, all these options can be used for creating canvas-based artwork. However, the key point to consider when picking out a base is to look for primed surface (coated with a gesso layer) and a bit of weight. To preserve your artwork for as long as possible, it is important to avoid using poor quality canvas, especially those sourced overseas on holiday. Trust us, these fabrics usually provide little pull and will easily break when it comes time to stretch them across the bars.
How to stretch a canvas
There are several tools you will need for stretching a canvas painting or artwork:
Blank or printed canvas fabric
Stretcher or strainer bars
Pencil/marker
Canvas pliers
Staple gun
Scissors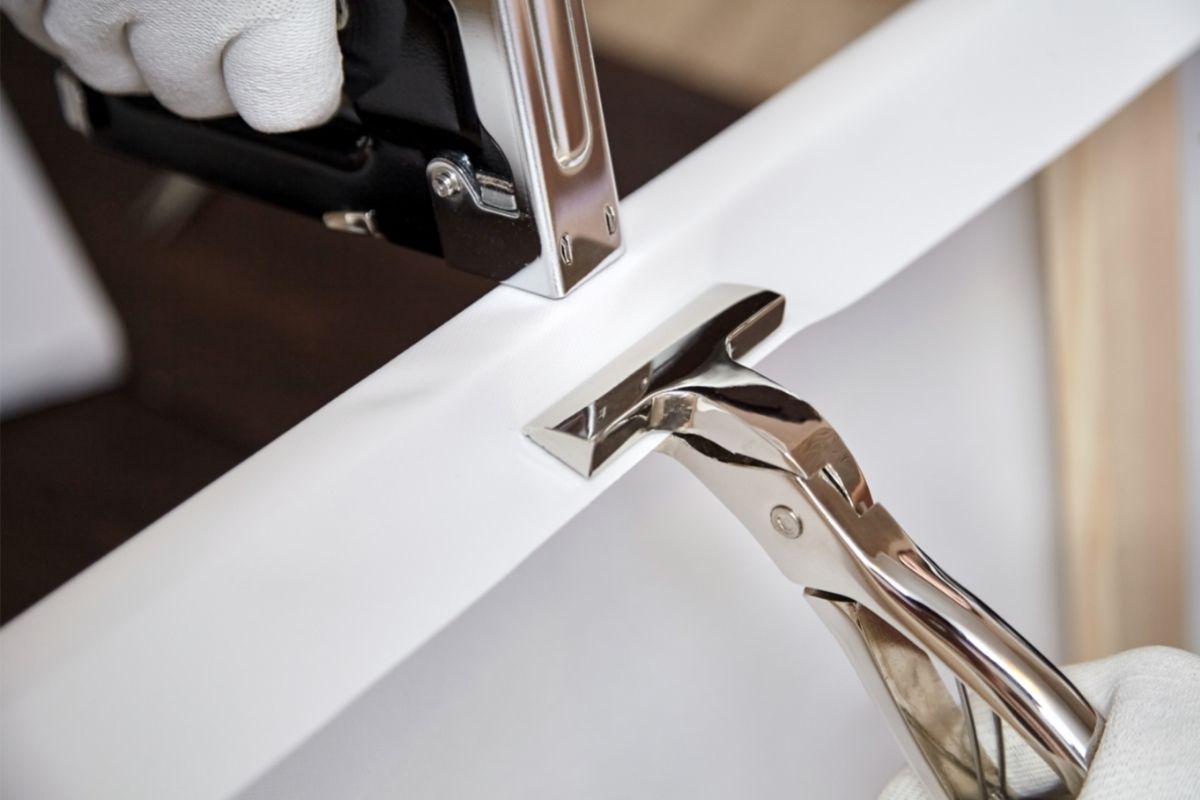 Before starting, use the size of your canvas as a guide for the dimensions of the stretcher bars. We recommend using a slightly smaller frame that allows for the fabric to wrap around bars.
1. Assemble the stretcher
Slot the outsides of the stretcher bars together, keeping the bevelled side facing outwards. This will sit against the canvas.
2. Line the canvas up
Lay the canvas face down and place the stretcher bars over the area you would like to stretch. Fold the canvas over the bars to ensure it can comfortably cover the bars. For later reference, you can also mark an outline of the frame on the back of the canvas with a pencil or marker.
3. Remove excess fabric
This step is important when stretching a blank sheet from a long fabric roll. We recommend tearing off any excess fabric by hand that won't be used along a single weave line.
4. Attach the fabric
Staple the canvas to the back of the stretcher bars on one side only.
5. Tension the canvas
Carefully tension the fabric on the opposite side with the canvas pliers. Be careful not to apply too much force here. If over-tensioned and humidity changes, it can lose stretch. Similarly, if the canvas is under-tensioned it will sag within the frame. We recommend checking to see if the weave is in line with the stretcher bar to ensure the tension is just right.
6. Staple the fabric
While the fabric is tensioned, staple this side down.
7. Turn the canvas around
With the canvas still face down, carefully repeat steps 4-6 for the top and bottom sides of the bars. Work with one side at a time to maintain tension.
8. Finishing
Once all steps above are completed, fold the corners inwards to prevent the canvas fabric from snagging.
The steps above should take you approximately one hour to complete, however, you can always leave it to the professionals to complete. With same day framing, you can have your canvas properly stretched and ready for painting or hanging.
Framing for stretched canvas
Now that your canvas painting is stretched and ready for display, you might be looking to add an additional element before hanging it up. This is where picture framing can help. Framing your canvas offers an added layer of protection, whether from unexpected damage on display or while moving between locations. In addition, a canvas frame will also compliment your artwork and enhance its beauty!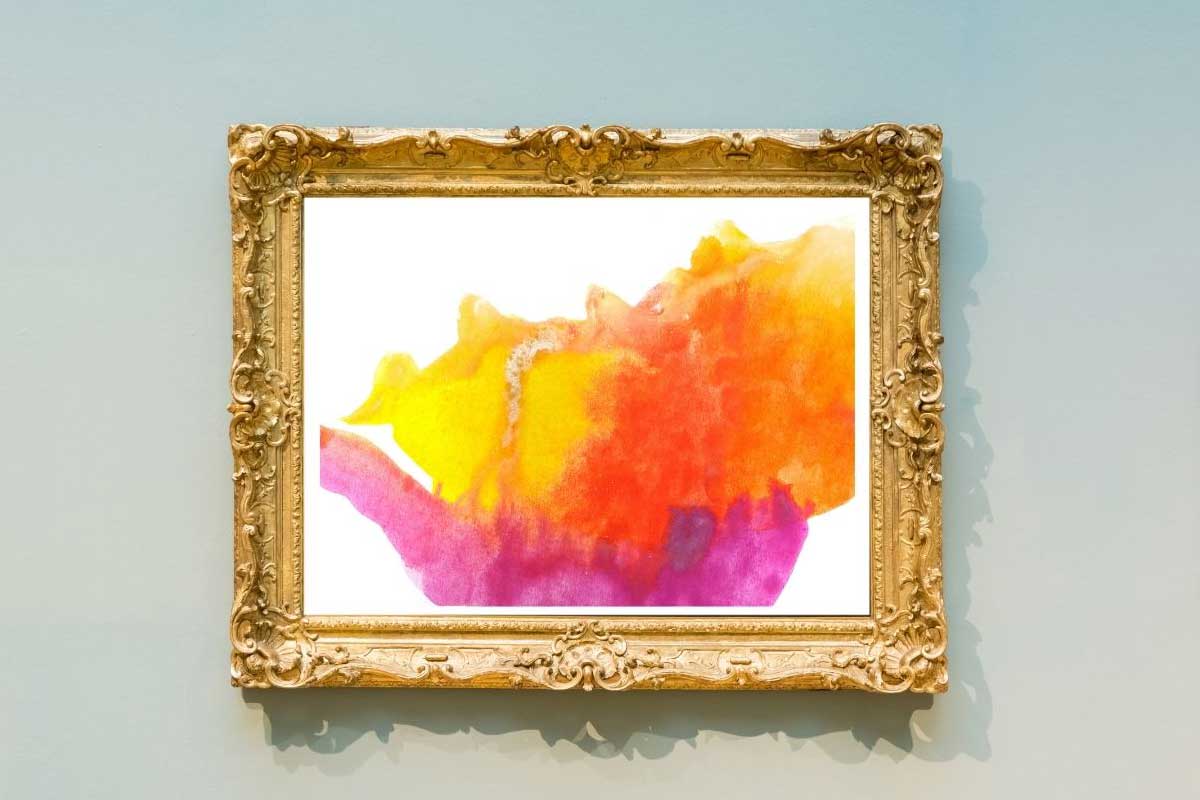 There are several options for framing a stretched canvas including the floating frame and back loader methods. Frame Today's expert framing consultants can help you decide on the best approach based on how you would like to display your artwork. Our Picture Framers Association (PFA)-accredited team will also recommend the best frame for size and style.
To find out more, contact us using the form below or visit one of our stores in Brisbane, Sydney, the Central Coast, Newcastle and the Southern Highlands today!