Date: 15/03/2022
The Framing Process: How It Works
The picture framing process can be daunting, especially if it's your first time. With differences in frame shapes, mat style and glazing options to navigate (without feeling overwhelmed), this can ultimately take the fun out of creating something beautiful for your family to enjoy.
As a result, it might seem easier to buy a cheap picture frame from a store. However, you also run the risk of buying a poorly made product that could end up doing more harm than good to your artwork.
Thankfully, with the right assistance, this process can be much simpler and far more enjoyable. From drop off to pick up, here's everything you need to know about the picture framing experience.
1. Consultation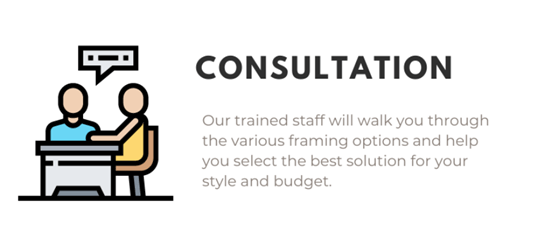 When you walk into any one of our 14 Frame Today locations, one of our friendly staff will be there to greet and help you through the framing process. With a wide range of frames, matting and glass available, it can be overwhelming, which is why our expert framing consultants are on hand to ensure your vision is brought to life. They will walk you through the various framing options and help you select the best choice(s) for your style and budget. We have options to suit everyone and every project.
2. Creation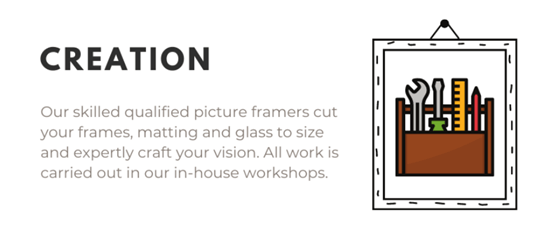 All our staff are skilled and certified picture framers. We take your custom-designed picture frame and get to work creating your masterpiece. First, we cut to order your frame selection, then the matting and glass, and expertly craft your vision. All our picture framing work is carried out in-house at our on-site workshops. Each store is fully equipped with the best in state-of-the-art framing technology and machinery to ensure your frame is made to last.
3. Final Touches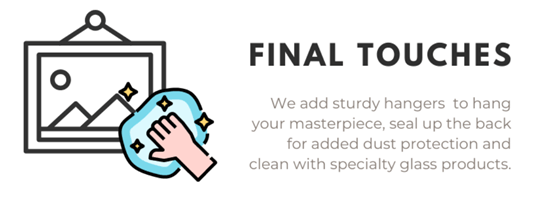 What frame would be complete without a hanger? We use D rings and wire to finish your frame and ensure you can hang your creation on your walls. For added dust protection, framers tape is used to seal the back of each frame and cleaned with speciality glass cleaning products.
4. Collect and Enjoy
We carefully wrap up your completed frame to protect it until you're ready to collect. At collection our friendly staff will be there to greet you with a smile and send you off with the final product, ready to enjoy.
5. Hang and Cherish

When you get home there's nothing more exciting than deciding where your special piece is going to be displayed. All that's left to do is hang on your wall and cherish it for a lifetime. And with our lifetime quality guarantee, you can rest assured that it will be cherished for years to come.
Looking for more picture framing information? Check out the rest of our advice pages. You can also follow our Pinterest board for framing inspiration