Date: 30/06/2021
Can I Frame a Stretched Canvas?
Why would you want to stretch a canvas?
A canvas is stretched when the blank fabric, print or original artwork is pulled over a (usually) timber frame known as a stretcher bar. This stretching ensures that the artwork is tight and flat. Once stretched, the canvas is ready for framing or hanging frameless on the wall for everyone to enjoy.
Canvas is highly regarded for its sturdiness and durability, leading to other use heavy-wear items such as tents, sails and backpacks. The fabric is typically made from plain-woven cotton (although sometimes linen is used).
A canvas-based artwork is a great way to personalise your space – especially if the piece to frame is a printed photo or painting created by you.
Before framing the canvas
Once your canvas is stretched, a complimentary frame will enhance the artwork even more when hung. If you are planning to custom frame a canvas yourself, there are a few points to consider before starting. Considerations may include:
Dimensions of the canvas: Important when deciding if you need a standard-sized or custom-made frame.
Depth of canvas (thickness of the stretch bars): If the canvas is deeper than the frame, part of it will be visible when looking side-on unless a deep box frame is used.
Weight of the canvas (grams per square metre): You need to consider eight when deciding on picture hanging requirement.
Style of picture frame
Here are the tools you will also need to complete the job:
Screwdriver or drill
Canvas frame clips or offset clips
Paint (if required)
How to frame a stretched canvas
There are three unique methods when framing a stretched canvas. The choice between each one depends on the final look of artwork that you would like to achieve. In all methods, the frame will sit on the outside edge of the canvas without any protective glazing.
Back loader
This is the most common canvas framing method. As the name suggests, the canvas is placed into the frame through the back and held in place between the frame rabbet and a variety of attachments such as framers points of staples. It can also help to hide any unfinished sides to the artwork from public view. If you are looking for a traditional looking canvas, back loader frames are a perfect choice. The popularity of this method also comes down to its timeless style which gives any artwork a classic art appeal.
Front loader
Also known as the float frame method, this technique utilises clips, screws or nails to secure the canvas piece through the back of the frame moulding to the stretcher bar. There is a gap between the artwork and the frame so that the canvas appears to be hovering within the frame. The front loader method is best used in styling modern or gallery-type spaces.
Metal frame
The metal frame approach slides the stretched canvas into snug channels (rabbets) inside the frame moulding. If the canvas fits correctly, there should be no need for any additional clips or support to hold it in place. Metal can be a less expensive frame than wood but the downside is that it lacks some of the design and creativity of a quality timber frame. Metal also poses the risk of costly future replacement from damage.
Find out more about why we choose to use high-quality timber in our framing process.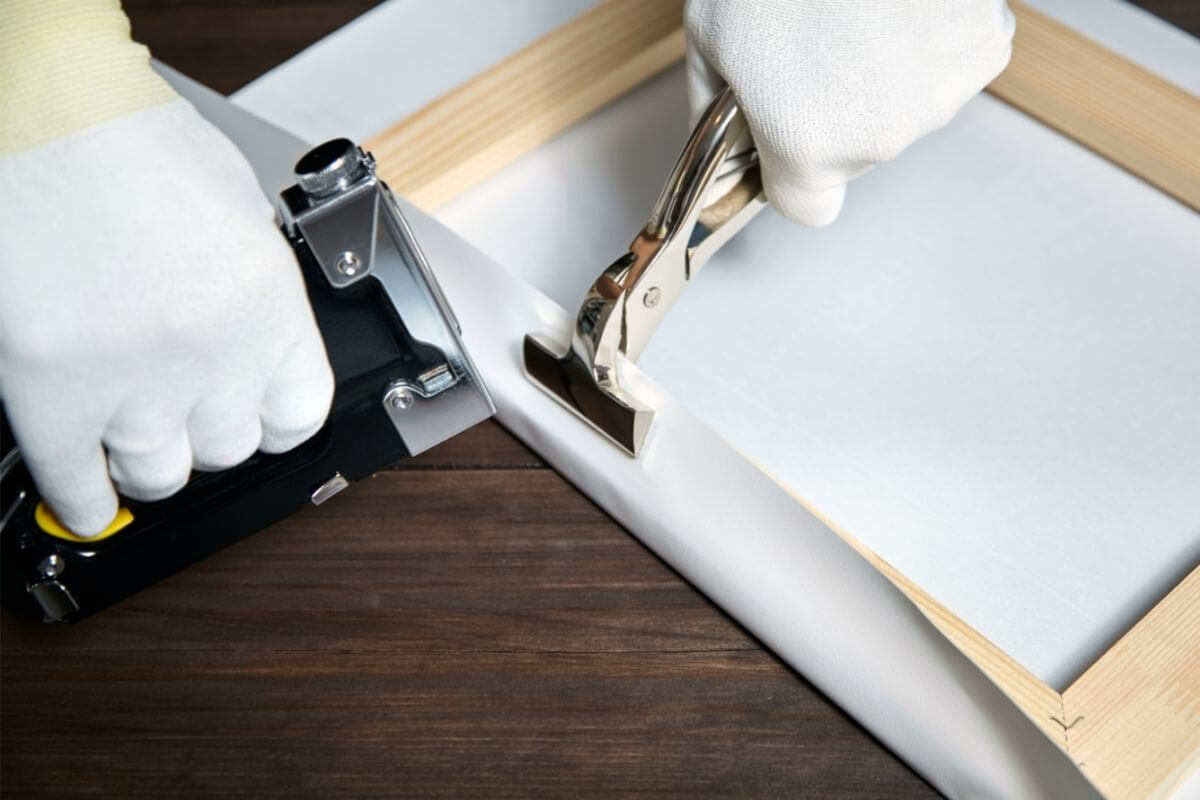 Common problems when framing a stretched canvas
Proper stretching is essential in ensuring long-lasting artwork. If the canvas is not correctly stretched, this can present problems when you start framing. This can often happen when cheap canvas art is bought overseas or on holiday, and artists are forced to use scrap fabric. A good quality canvas print should be properly tensioned across the timber stretcher bars, with no warping or sagging present.
Over time, the framed canvas can also become warped. If this happens, you will need to remove the canvas from the frame, remount it on a new stretcher frame with the same dimensions or replace the frame if the identical size is not possible.
Need help framing your stretched canvas?
With our extensive range of frames and experts on hard, Frame Today can professionally take care of your stretched canvas framing. Our PFA-accredited framing consultants are on hand to help you get the job done right backed by a lifetime guarantee.
Looking for more custom picture framing help? Contact us using the form below or visit one of our stores in Brisbane, Sydney, the Central Coast, Newcastle and the Southern Highlands today!