Date: 30/06/2021
The Key to Looking After Your Antique Mirrors
What is a framed mirror?
Mirrors. Every home has one and you would struggle to find a person alive today without the need for one. However, the humble mirror is often overlooked as a style statement, especially when a frameless mirror is installed in your bathroom. In these cases, the glamour and beauty of these magical items are often lost to the sterile environment.
"A framed vintage mirror has the power to change this."
A framed mirror is any mirror that has the exposed sides of the glass face covered, transforming a sterile tool into an art piece of beauty and design. Frame Today stocks a wide variety of stylish framed mirrors and finishes including arch top, round, oval and square. Framed mirror material finishes include gold, silver and natural wood.
The beauty of any good design is to survive through the ages and antique mirrors have done just that. Although antique mirrors may not have the clarity to put on one's makeup, they do create an aesthetically pleasing style piece for any home or living space. Coupled with a daring frame, the vintage mirror is the ultimate talking piece to impress your house guests and create a powerful, lasting and timeless statement of elegance.
Unfortunately, any piece of true, eternal design will also require maintenance to keep it around for the long term. So, if you are planning to eventually bequeath your much-loved and prized antique mirror to your loved ones in exquisite condition; follow this step-by-step guide on how to care for your vintage mirrors and your mirror frames.
How to Clean Your Mirror Glass
Looking into a mirror is the start of a journey. Let us start this journey with a clean mirror.
To clean your mirror glass, follow our four simple steps to get your glass looking as good as the day it was made.
Materials
2 x chamois cloths or microfiber cloths
White vinegar/rubbing alcohol
Cleaning Method
Prepare your cleaning solution: Add 1/4 cup of white vinegar to 1 cup of water. If you are out of white vinegar, check your first add supply, rubbing alcohol can be used instead.
Saturate your chamois cloth in your vinegar solution or rubbing alcohol.
Wipe down the mirror with your saturated cloth, taking care to avoid the frame.
Wipe down the mirror with a dry chamois cloth to avoid glass streaking.
Buff the mirror surface for some extra shine by using a circular motion with your chamois cloth.
By following these easy steps, your mirror glass should be looking fresh, crisp and reflective. When you are cleaning your mirrors, it is also a great time to give your picture frames a spring clean. Follow our step-by-step picture glass cleaning guide for all the information you'll need for this.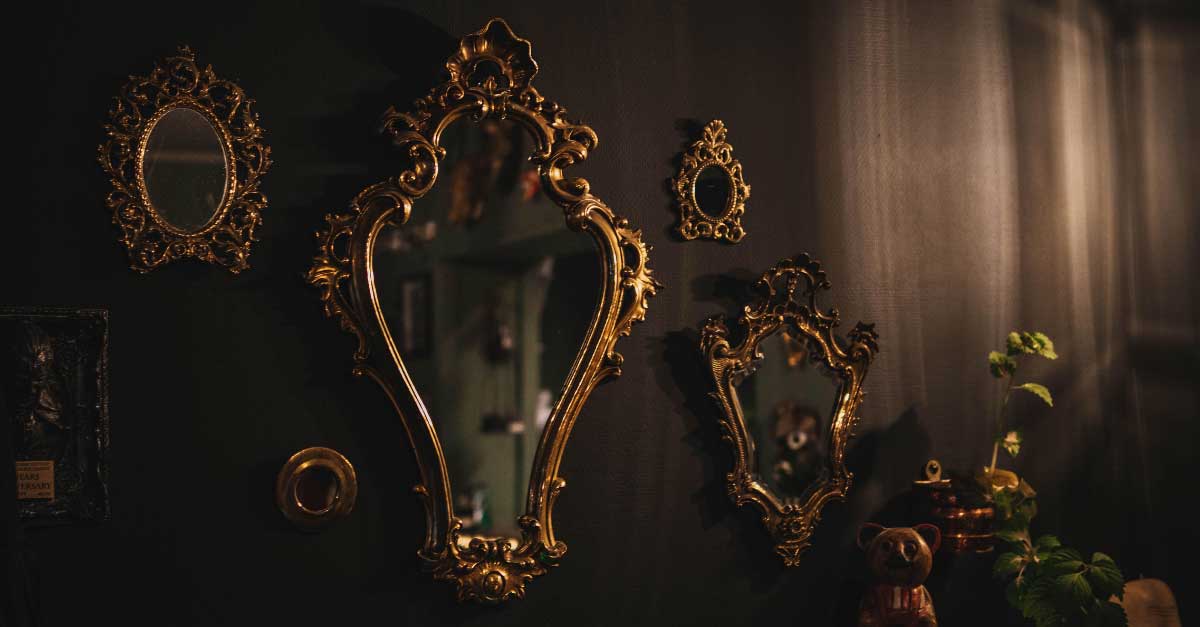 How to Clean Antique Mirror Frames
Keeping your mirror frames in the same remarkable condition as your mirror glass is essential. Proper cleaning is important but if done incorrectly it could severely damage your frame.
When it comes to cleaning antique frames, here are two methods you can use.
Materials (Option One)
Cleaning Method (Option One)
Lightly wet the cloth and wipe any dirt along the frame
or
Materials (Option Two)
Feather duster or soft-bristled paintbrush.
Cleaning Method (Option Two)
Delicately dust the mirror to remove any grime
Top tip: If your frame has any nooks and crannies, use a magnifying glass or zoom on your phone camera and pipe cleaners to get into these smaller spaces.
Additional Considerations
The best method for caring for a vintage mirror is to prevent any unnecessary stress on the mirror from day-to-day activities.
Here are five important considerations before purchasing and during the life of you vintage mirror:
Keep your mirror out of direct sunlight. This will help your frame to keep its colour and avoid any natural timber warping.
Keep your mirror away from high traffic areas of the house or office. This will protect against any unintentional run-ins to your prized mirror from any children.
If mounting to a wall, ensure you have done so with the correct mounting method suitable for your mirror weight. You would not want to see any falls damaging your mirror. View this blog here for more mounting options.
Keep your hands and fingers off the mirror glass. This is to protect your mirror glass from tarnishing your pristine buffed finish as human skin contains naturals oils.
Depending on the material of your mirror frame, humidity or dampness could affect the glass. So, if you live in a high humidity zone be sure to consider this when purchasing a mirror. Alternatively, keep your mirror in the correct environment using your home's climate control system.
Learn more about proper hanging for picture frames.
When should I replace my mirror frame?
Even if you have taken the time to care for your frame with the steps listed above, there may come a time to replace your mirror frame. Rather than purchasing a new mirror, it is often cheaper and easier to replace your mirror frame, especially if you already have the perfect mirror for your space.
It is time to replace your frame if it is showing any obvious signs of wear such as cracking, mould, fading or general old age. If you are an interior design pundit, changing your mirror frame is a great way to update a room or create that little extra pizzazz.
You may also need to eventually replace the mirror glass due to edge corrosion and oxidisation. While less common than replacing the frame, it can add new life for mirrors exposed to moisture over long periods (such as bathrooms).
Frame Today has pioneered mirror frame replacements in Australia by introducing the latest European frame cutting machine. Thanks to our onsite workshops and expert team, we can precision build a custom frame to any specifications that you have. You can read more about our framing technology here.
Are you looking for the perfect statement piece to spice up your living spaces? Or are you searching for the perfect frame to feature around your antique mirror? Why don't you visit one of our picture framing locations and speak to a mirror framing consultant.