Date: 14/04/2021
How to Properly Hang Picture Frames
When getting ready to display your treasured moments and memories, make sure you know how to properly hang the frames.
Picture Alignment
When it comes to aligning pictures on a wall, the general rule is to hang your picture in line with the average person's eye level. Of course, the viewer's eye level will vary depending on the room. For example, in the lounge artwork can be hung lower as people are more likely to view it while sitting on a sofa or chair. The same also goes for hanging pictures in a dining room. In a hallway, most people will view the artwork from a standing position therefore it can be hung higher.
Typically, we recommend an average hanging height of 1.5 metres from the floor as a good starting point. This method can also be useful when pondering how to arrange frames on a wall. However high you decide to hang your pictures on the wall, it should consider the existing environment and not look out of place.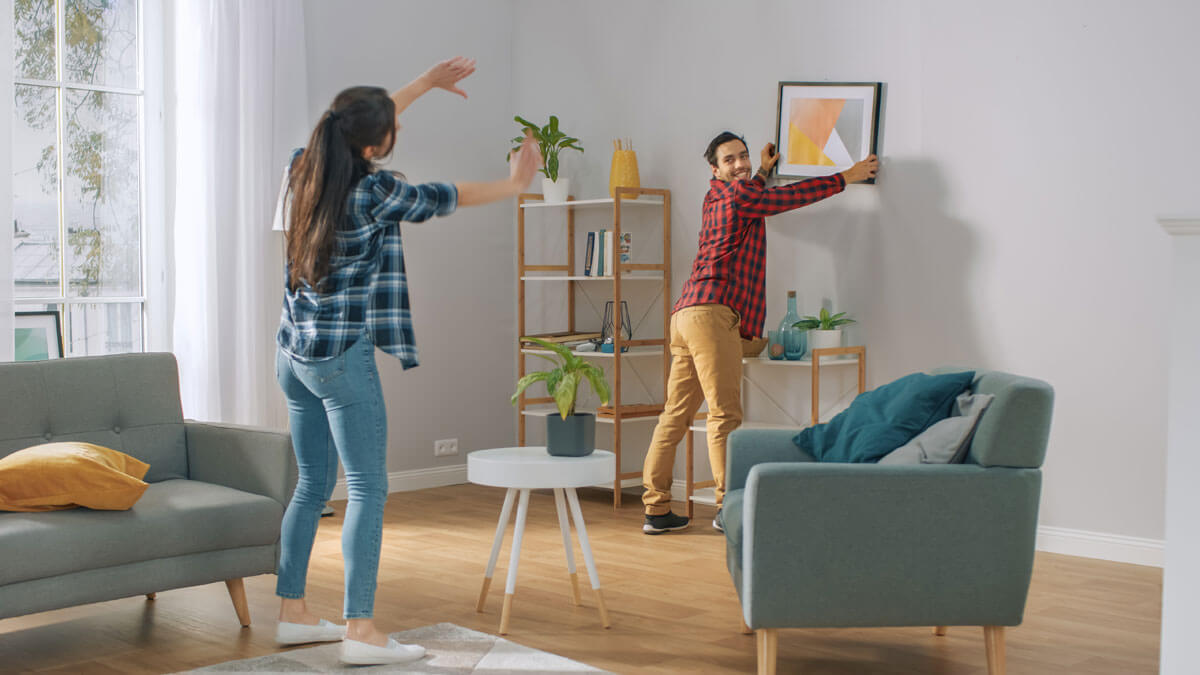 Hanging Hooks
Use proper frame hanging hooks rather than nails and screws. These are specially designed for hanging artwork and can be relied on to be very secure. Picture hanging hooks are designed to go into your wall at an angle, therefore they can hold a surprising weight. With some hooks you don't even need to find a stud in the wall. Regardless, you will need to consider the weight of your picture and your wall type when selecting the right type of hook.
Read our advice on how to hang different sized picture frames.
If you are looking to hang picture frames on walls without using nails or hooks, we would advise against this. With the investment that comes with picture framing, hanging strips may not be fully reliable to hold heavier weights and often fail over time when the adhesive loses its effect. Take it from us, nothing beats a good old nail and hammer.
Using Multiple Hooks
We always recommend hanging your framed artwork with two hooks. When hanging heavy picture frames, this will help to evenly distribute the weight, while minimising movement on the wall. Having invested your time in hanging your new picture, these will help to secure leaning picture frames from bumps or worse… nasty falls in the middle of the night!
Before hammering the hooks in, make two marks on the wall and on the back of the picture, preferably the same distance from the sides. Then hold the frame up by the wire exactly at the marked points and measure the distance to the marks. You should now know where the hooks will go and how the artwork will sit.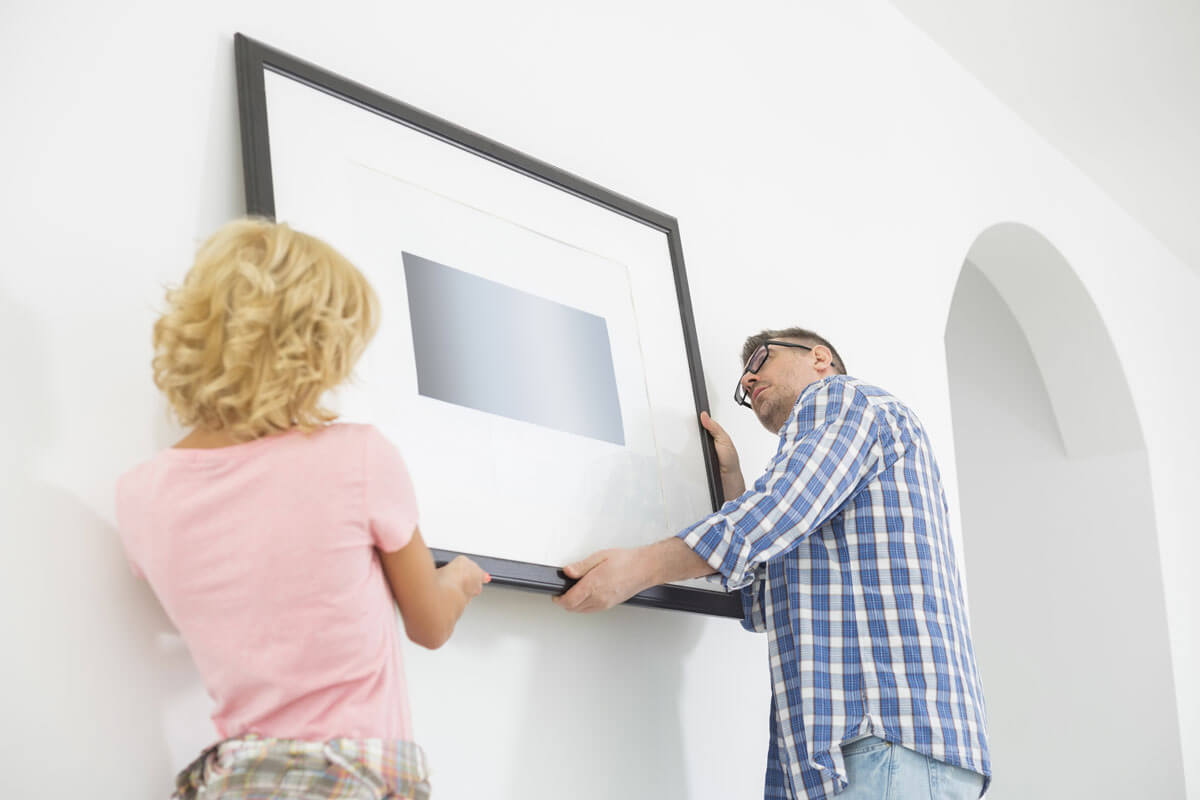 Avoid Direct Sunlight
Ultraviolet (UV) light will cause fading and breakdown the chemical bonds in the artwork paper so you should never hang your framed picture opposite or near a window, skylight or opening where it can be exposed to direct sunlight. Overhead florescent lighting has also been found to be a cause of damage on displayed artwork. Common signs of light damage include dark or yellow discolouration of artwork.
The best place to hang artwork is on a wall facing away from natural light. If your artwork is valuable and sunlight cannot be avoided, we recommend using a UV glass glazing option, instead of glass to eliminate up to 99% of harmful ultraviolet rays.
Avoid Moisture
The level of humidity will contribute to the deterioration of your artwork, causing it to expand and contract with changes in the weather. Similarly, it is recommended that you avoid hanging your frames in very damp or wet rooms where moisture can contaminate the artwork. Large variations in temperature (such as in a shed or ceiling cavity) can also be damaging to artwork. This also goes for exposure to smoke – either by tobacco or from chimneys and fireplaces.
If you are planning on preserving your artwork, we suggest hanging in an area with good airflow and proper ventilation. This will ensure your framed art remains mould-free and stays in pristine condition.
Do you have more questions on how to properly hang picture frames? Contact Frame Today using the form below or visit one of our stores and speak to one of our friendly experts today.