Date: 30/06/2021
Check Out Our Designer Matboard Collection!
Deciding on a mat board can be one of the last things on your mind when designing a custom picture or photo frame. Once you have settled on what you would like to frame and figured out the right frame sizing, the next point is usually to decide what style of frame best compliments your artwork.
While most of us appreciate a great looking frame, what about the matboard?
What is the matboard?
As we have covered in this previous article, a matboard is a cardboard-like part of the picture frame that spaces the artwork from the glass to protect it from damage. But the matboard also serves a visual function in a frame. When positioned correctly it acts as a border for the artwork and draws the viewer's eyes to the centre of the piece.
Matboard design can often be an after-thought, especially if we are only used to seeing the standard plain-white option common in most store-bought frames. Depending on the item being framed, there are four main options for matboard material including:
Museum – made from cotton-fibre
Conservation – made from high-quality paper
White core – made from recycled paper
Designer - read on
Most types of matboards can be classified as one of these with each offering unique levels of protection for your artwork.
Choosing the right matboard for your project can also vary based on your budget. Museum matboards are usually the most expensive option, justified by the high level of protection offered to priceless artwork. This is followed by conservation quality, offering similar-but-lessened levels of preservation. Whitecore mats are the most common and affordable option for general framing needs.
Find a more detailed breakdown of each type of matboard we offer here.
What is our designer collection?
From here on, we will be focusing specifically on our Designer Collection matboards. Frame Today's designer range is made in conservation grade backing paper, offering a stylish flair with the protective qualities you need for high-value artwork. After all, if you are going to show it off, you might as well ensure every part of the frame looks great!
Designer Suede
Suede mats add a touch of elegance in displaying precious heirlooms. Its luxurious feel provides a solid base for items – almost like a permanent red carpet, just with more colours to choose from! Our suede mats are ideal for decorative use in memorabilia framing.
Available colours: 24
Core: White & Black
Material: Suede
Key features:
Conservation quality
All parts buffered to a pH of 7.5 to 9.5
Easy to cut
Bright white, extra-thick bevel
To see how our custom suede matboard looks in a finished frame, check out our recent work for Tim & Rod, winners of The Amazing Race Australia!
Kobi Silks, Real Linens, Linens, Weaves
Linens, silks and weaves are best for creating contemporary-looking framing. Silk provides sophistication, while linen offers a timeless elegance that beautifies your custom framing project. The classic textures of weaves allow for a new dimension in style and creativity with a visually coarser look.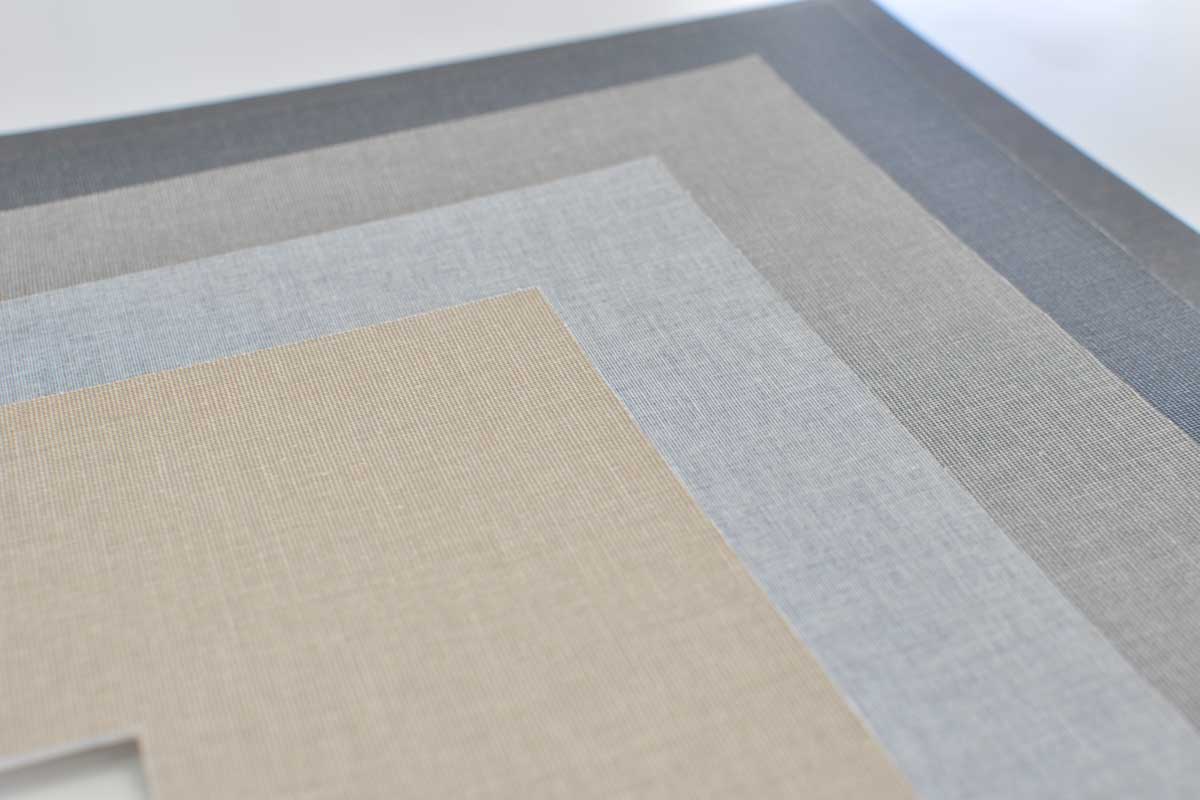 Available colours: 20
Core: White
Material: Silk, Linens, Weaves
Key features:
High Alpha Cellulose Conservation core
100% virgin fibre Conservation backing
Acid and lignin free
Calcium carbonate-buffered
Our designer matboard collection is sourced from Peterboro Matboards, with approval from the Fine Art Trade Guild. While most of this collection is pre-cut, we can also cut mats to your individual specifications for irregular and odd shapes.
If you'd like to find out more about our designer matboard options, speak to one of our in-store experts at your nearest Frame Today location.