Date: 30/06/2021
Five Creative Ways to Use a Display Case Frame
Do you have an old family heirloom lying around in an old box somewhere? Perhaps one that you have been looking to turn into something special? Alternatively, has a family member recently completed active service with some decorations that could do with a little shine? It might be time to consider display case framing.
What is a display case?
Display cases or display boxes (also referred to as shadow boxes) are pre-made, clear square boxes for exhibiting. They are a creative way to preserve and celebrate your most treasured objects.
Whatever the need is, there is no limitation to the types of items you can get framed. If you want longevity and durability for showcasing valuable items, investing in quality a display case ensures that you get exactly what you are after and prevents any potential DIY mishaps.
Want to see how it works? Here are five creative ways of using display cases.
1. Footballs
The preservation of sporting memorabilia is one of the best ways to use a display case. While most of us may only think of this as football shirt or jersey framing, memorabilia can also include the game-winning ball that holds sentimental value for the team.
2. Sculptures and Figurines
Take that incredible LEGO creation out of the toy box and into a sleek display box for all to see. Display boxes can also be used for protecting sculptures from dust, dirt and other damaging environmental factors. Also ask about acrylic glazing with UV filtering to prevent fading for more delicate objects.
3. War Medals
Outside of ANZAC Day and Remembrance Day marches, there are a limited number of opportunities to proudly showcase one's service awards. With a display case, you can ensure that your family's pride and joy is respectfully displayed and preserved for years to come.
4. Cricket Balls
Like ball framing, cricket ball displays are a great little gift for the sentimental sportsman. Display cases for cricket balls are a small and inexpensive way to commemorate the glory days or give a young player a reminder of their hard work.
5. Model Cars
Car enthusiasts spend a large amount of time and money on model car kits they can be proud to build. With that level of investment, it is only right to give it a proper home in a model car display case that shows off your hobby and protects it from damage.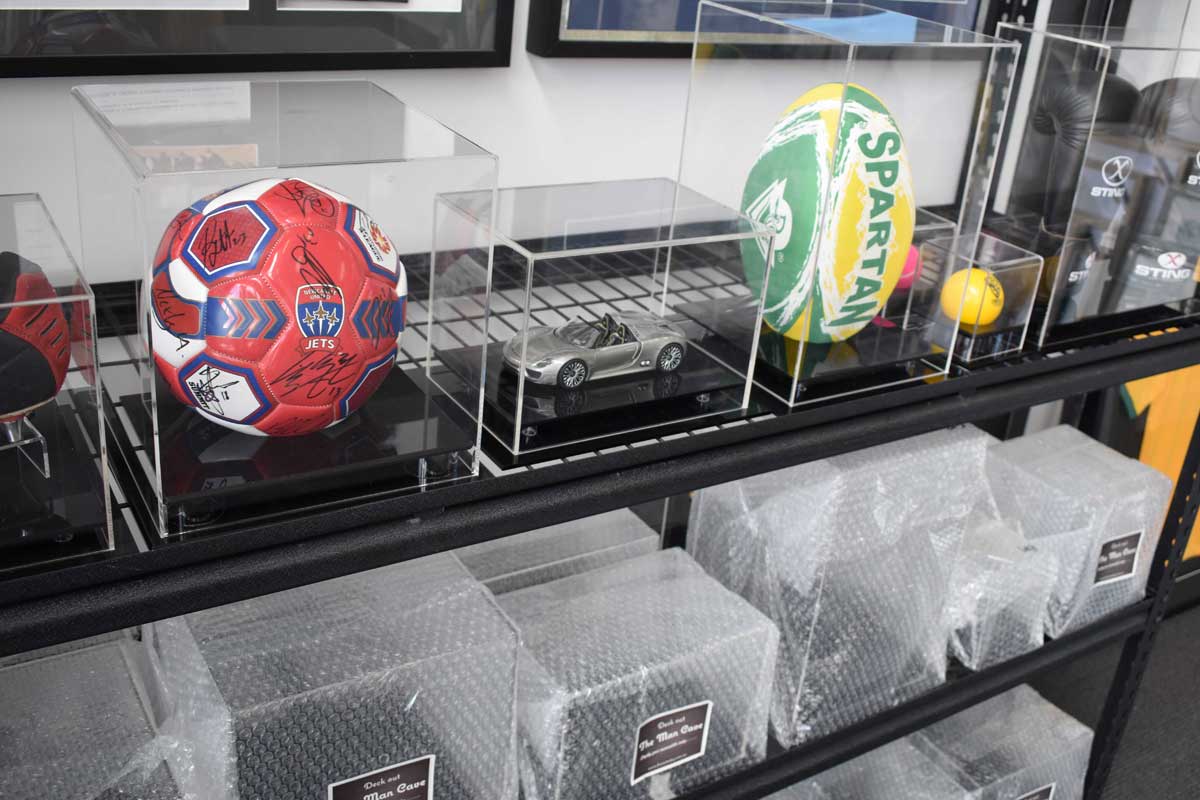 Where can I get a display case?
The value of an item does not need to have a dollar value attached to it before it should be considered for framing. All it needs is sentimental meaning to you and/or your family. If you want it professionally taken care of, Frame Today can help you get the job done right with a range of trusted, high-quality display cases.
We offer a range of standard sized options* including oval football (rugby, AFL) and round ball (soccer, basketball, netball) ready to go. All you need to do is find your nearest store and one of our expert framing consultants would be happy to help. You can also shop our display cases online with a complete lifetime satisfaction guarantee.
A case can also be a great gift for someone with something to display. For unconventionally sized items, we can order in or produce a custom display cases according to your specifications.
For more information, contact us using the form below to get started.
*Subject to availability.