Photographic Prints and Posters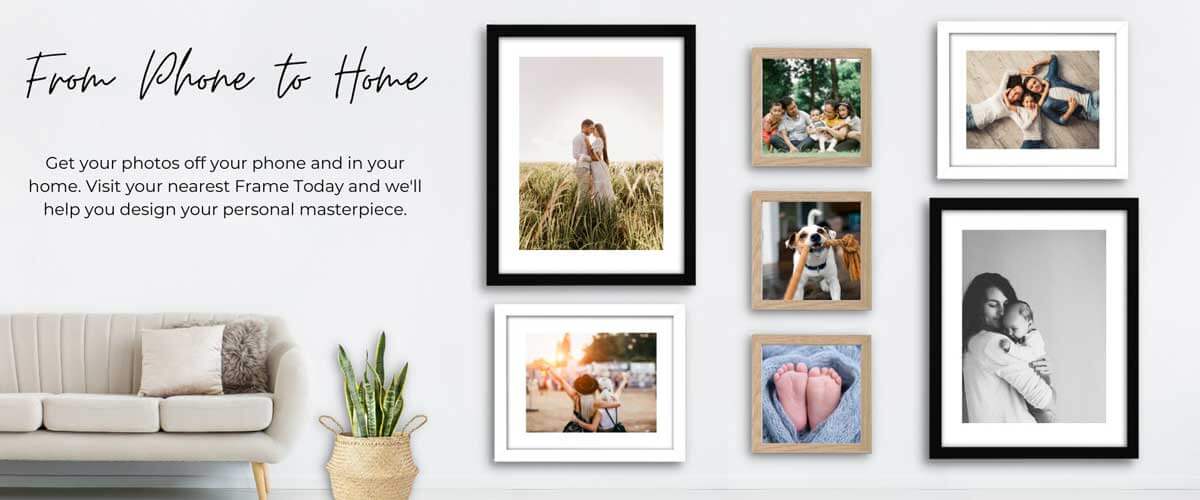 Print & Frame Photos
Have you captured the perfect image on your camera or smartphone and want to make it into something worth displaying?
With our picture printing and framing services, you can turn your memory into a piece of art, framed and ready to enjoy for a lifetime. We use professional-grade, high resolution Epson printers designed for high-production photographic, fine art and indoor display graphics printing. This allows us to offer everything from colour to black and white framed prints.
Visit any of our stores and choose from paper or canvas to have your photo printed across a range of sizes to suit your space. You can also have your own custom frame crafted or select from any of our ready-made Everyday range.
Our framing consultants can help you find the right combination of high quality photo printing and framing options to make your choice easy. From phone to home, it has never been easier to get your digital photos printed and framed for life!
Print & Frame Packages
We have removed the need for multiple quotes to print and frame. Thanks to our picture printing packages, you can have high quality photo printing and framing starting from as little as $99. Simply select your image and frame size to get started. Our bundles deliver great value without compromising quality... and are all covered by our lifetime guarantee.
Image size
Photo Frame size
Printed & Framed

20 x 30 cm
(8 x 12")

36 x 46 cm
(14 x 18")

$99
30 x 45 cm
(12 x 18")
46 x 61 cm
(18 x 24")
$149
40 x 60 cm
(16 x 24")
56 x 76 cm
(22 x 30")
$199
50 x 75 cm
(20 x 30")
66 x 91 cm
(26 x 36")
$249
66 x 100 cm
(26 x 39")
82 x 116 cm
(32 x 46")
$299
If you have several family or holiday photos you may wish to combine these into a single collage photo frame or select several complimentary photo frames which can be arranged as a photo wall. Both options allow you to create a feature that will completely transform your space.
Find more design inspiration in our blog.
Posters & Prints
Do you already have a poster or print ready to be framed?
In addition to our photo printing services, we also offer instore poster framing. If your poster, print or photo is a standard size (or close enough for us to trim) you can choose from our Everyday range to frame it in. Once again, this range allows us to provide the same quality you would expect from a custom poster frame, backed by our lifetime guarantee.
We can also craft a custom frame for you, guided by one of our framing consultants who will take you through your choices for frame moulding, matboard, glazing and backing.
Find out more about our poster framing services.
Visit or contact your nearest store and let us turn your digital photo, print or poster into a work of art, ready to be hung and enjoyed for a lifetime.