Date: 08/04/2022
Why You Should Frame Your Music Memorabilia
Music Memorabilia – Make It a Feature
Music is an art form that inspires, motivates, relaxes and entertains us but each of us has different tastes when it comes to the artists or genres we enjoy most. Whatever our musical preferences, the one thing many of us have in common is that we love the way music makes us feel.
The joy that music brings can be captured through musical memorabilia which triggers personal memories and these moments of joy can take a pride of place in any home.
An often-overlooked item for framing, but one that can take pride of place and elicit joy in any room, are musical instruments, albums and concert memorabilia, framed and hung as a centrepiece.
What musical items should I frame?
Music memorabilia framing options are limited by your (and our) imagination. Our PFA qualified framers have the creativity to help you select the perfect frames to complement your musical items to create a true memorabilia masterpiece. Plus, the expertise to frame them to the highest standard that ensures your valued items are protected and preserved to be enjoyed for a lifetime.
Since 2005 we have framed a wide variety of music merchandise including, 12" vinyl albums, 7" vinyls, CDs, cassettes, shirts, guitar picks, drumsticks, drum skins, VIP lanyards and much more. Often, we combine various items such as a rock band T-shirt, with concert ticket and drum sticks in one frame to create something very special. A gift for yourself or someone else that rocks!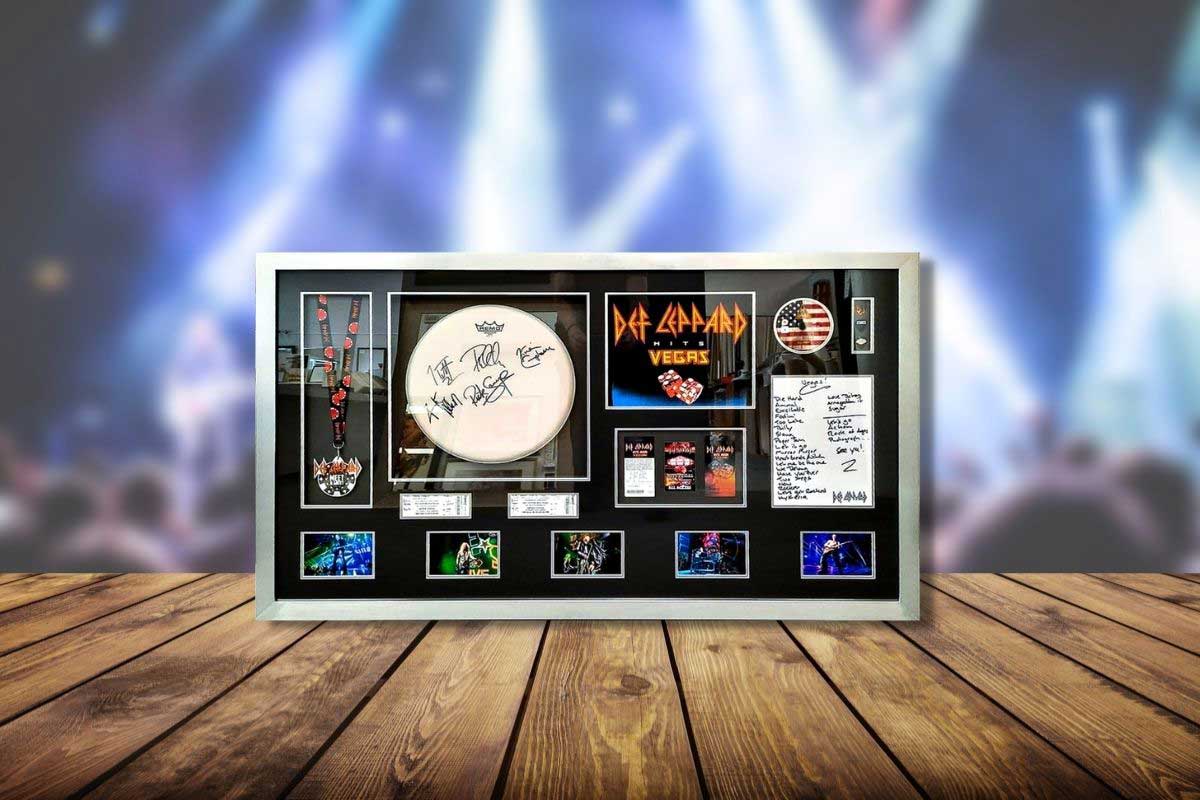 Custom memorabilia framing is a great way to preserve your mementos. Not only does it maintain their condition but also showcases them with a quality finish can make them appear as special to others as they are to you. When we forget about important items they tend to be left in boxes, crumbled up in cupboards or worse, stashed somewhere you cannot remember. At the end of the day, these items are not being appreciated and leaving them to collect dust and mildew guarantees they never will be. Quality custom framing of your musical mementos means you can preserve these pieces for years to come.
For example, framing your musical instrument or vinyl records protects the item and prevents the material from being damaged or stained as it would if left in a cupboard for an extended period of time.
Popular pieces that are worth sharing and protecting can include (but are not limited to):
Autographed shirts
Concert and festival tickets
VIP lanyards
Records including 7" and 12" vinyls
Album covers
Compact Disks
Cassettes
Guitar picks
Drumsticks
Drum skins
Signed photos
Music posters
But really, it can be anything you love. It could represent your own or a loved-one's musical achievement. The value does not have to come from what the monetary cost of the piece is, but rather what it means to you and the people around you.
Benefits of professional framing
If you are no considering how to frame your music merch, it is worth noting that investing in quality craftmanship is the best thing you can do. Having an item of value professionally framed means you will not be disappointed with the end result or risk damaging it in a DIY mishap.
At the end of the day, if an item is important enough to have framed, you want it to be presented professionally with a high-quality finish. Another benefit of using a professionally certified framer is they have the skill to combine multiple items into a single feature piece, creating a custom design unique to your music memorabilia.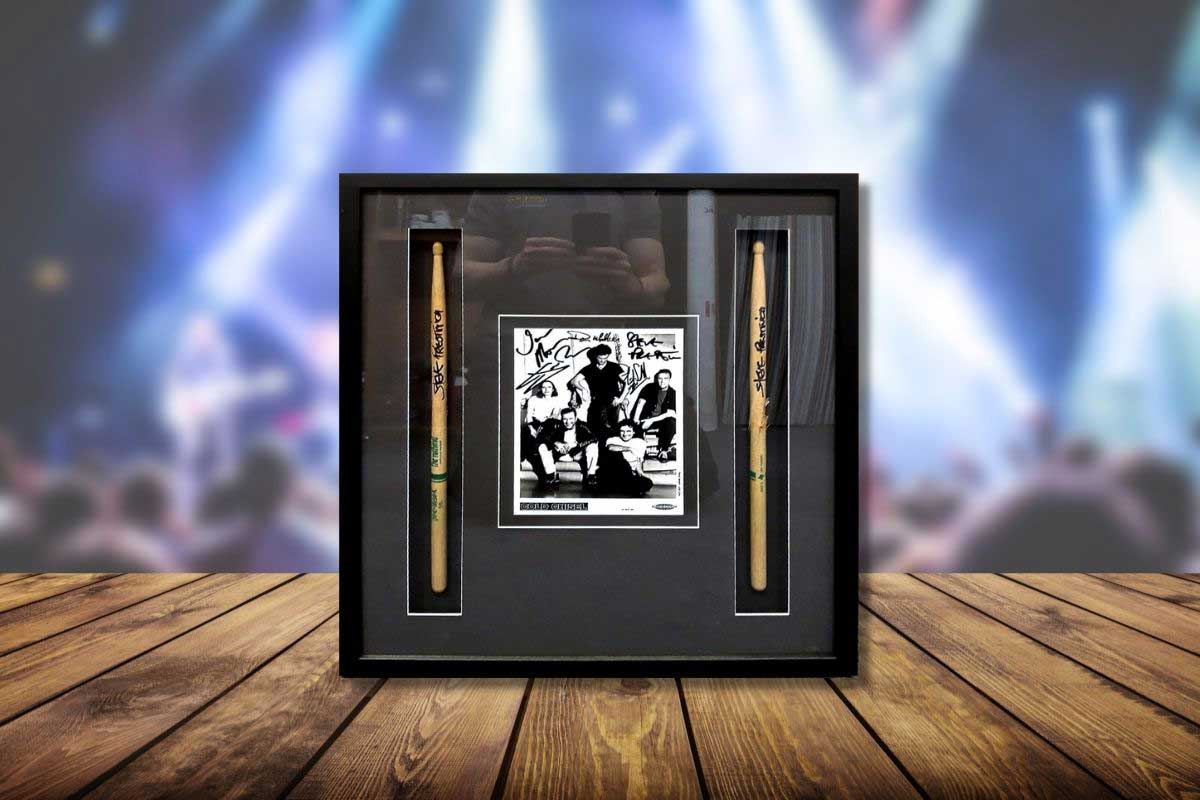 Alternatively, if you have an important musical item that cannot be framed such as a small instrument you should consider getting a display case. Display cases can be adapted to suit your item's needs and have great flexibility for design styles.
Let us help
We understand that knowing how to frame musical merchandise is not always as straightforward as it seems. If you have a special item in mind you want to preserve, Frame Today can assist you with all your memorabilia solutions. Our custom framing services come with a lifetime warranty to make sure items look as special in years to come as they did the day you got them framed.
But don't just restrict your framing ideas to music memorabilia – we can frame anything from fossils, to jerseys, picture framing and more. If you have an idea, use our list of store locations to find out where to get music collectables framed.
You can also get in touch with our industry-certified team to answer any queries including the cost of musical memorabilia framing, by using the form below today!