Date: 29/01/2021
Three Simple Ways to Arrange Wall Frames
Great wall art will transform an otherwise plain space of your home into a visually appealing section. However, knowing exactly how to make the décor work can be a difficult task.
With many options up for consideration, picking the right combination of images to hang can fill even the best amateur decorator with anxiety. To help you overcome this, we have compiled three simple tips below to help you take the fear out of coordinating your wall frames.
1. Arrange by theme
Choosing a theme based on your artwork is one of the simplest ways to arrange picture frames on a wall. This means that images with similar content are grouped together to provide a consistent visual understanding of what the space is about.
Most people look to frame images that showcase their interests or memorable moments; hence a theme will naturally form without much forethought. This can be outdoor landscapes, personal portraits, or family picture arrangements. Once you find a theme, stick to it and avoid the temptation to add in random images.
But what if you are struggling to find a theme?
If you have a key piece of art that stands out, hang this up first and build all others around this. Large pieces work best as a centrepiece and should be hung at eye level. A focal piece is also a great alternative if you are looking to hang mismatched picture frames or anything without a consistent theme or similarities.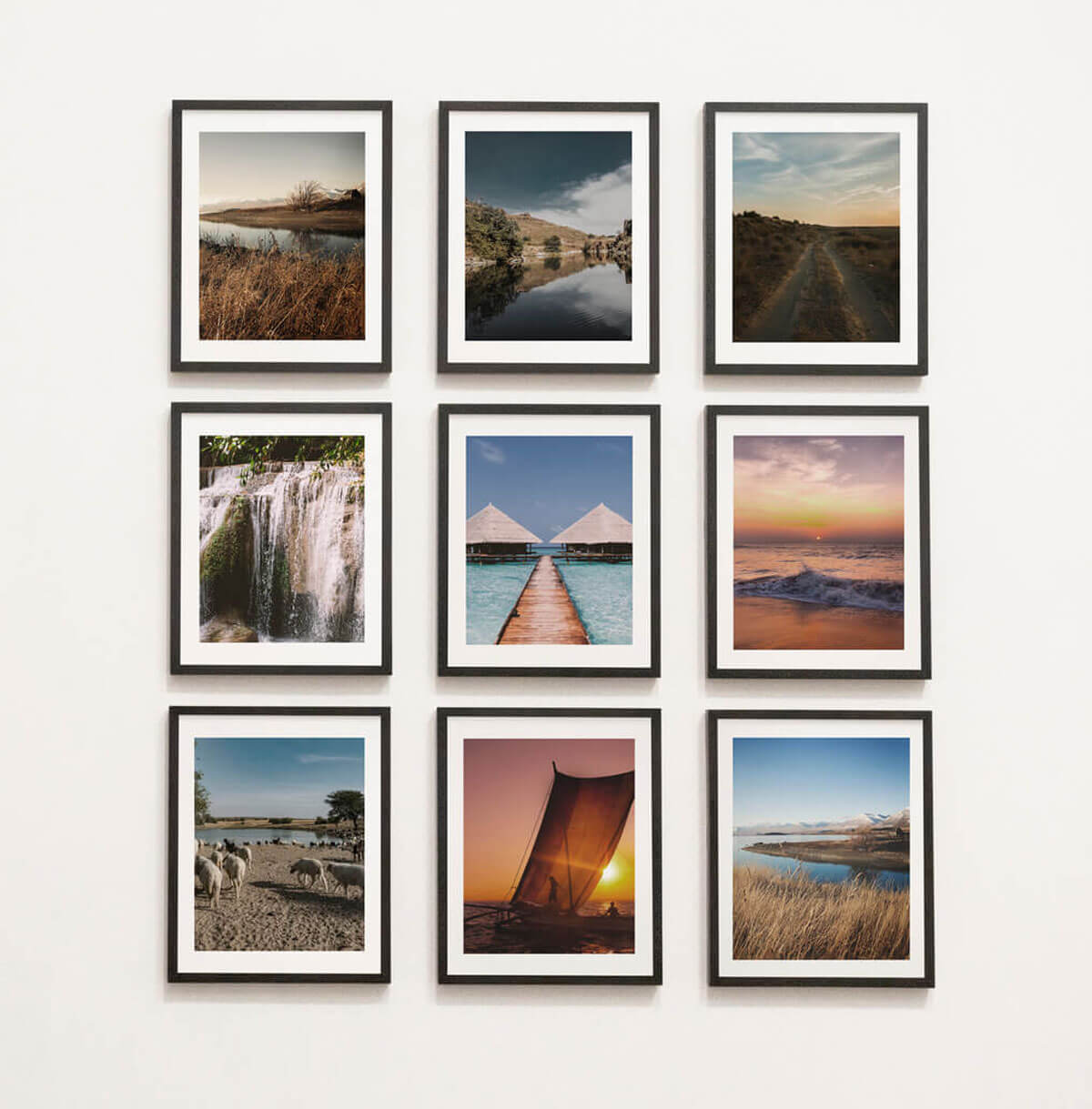 2. Arrange by shape
Picking a shape will help guide you when hanging artwork together. The most common themes to work with are squares, triangles, or pinwheels. Start with a vision of the shape you would like to work with, then measure out the space available to ensure that you can comfortably fit your frames in place. When arranging frames by shape, it is helpful to start from the bottom and work your way up.
For a more structured grouping, work in a symmetrical grid using frames with matching styles and sizing. This results in a more formal look that is ideal for older rooms. If you're looking to hang different sized picture frames, groupings incorporating pictures of different sizes can give the space a more modern feel.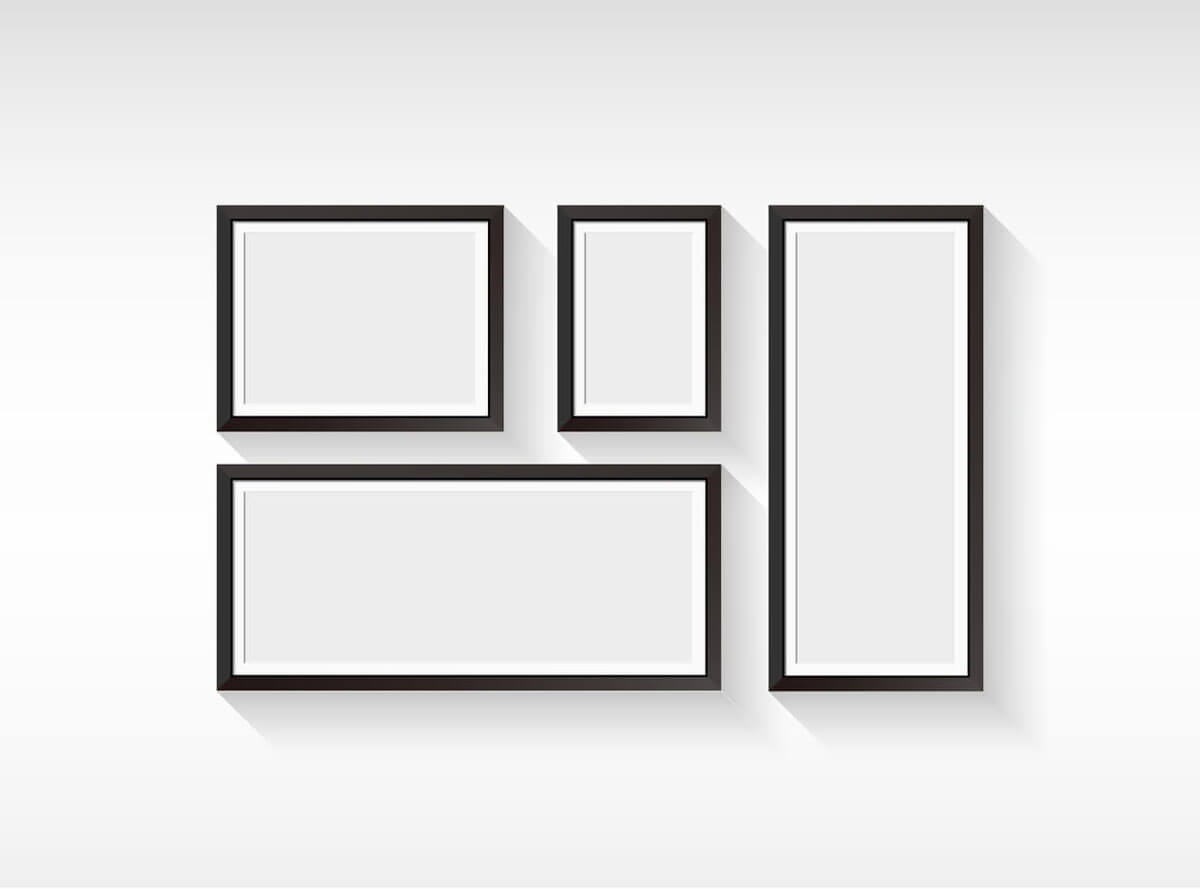 3. Arrange by colour
If you have got the eye for it, arranging images by colour palette can be an extremely useful method. While it might seem like a simple rule for grouping wall frames together, if done incorrectly it can throw out the look of the space.
Firstly, consider the overall style of the room and pick colours that works with the existing theme. For example – modern rooms will be best complemented by neutral coloured frames in black and white that don't detract from the minimalist feel.
To create a more striking look, you may like to try complimenting bright or even opposing primary colours such as blue and green. Finally, whatever colour scheme you settle on, don't spend too much time focused on matching your walls to your frames.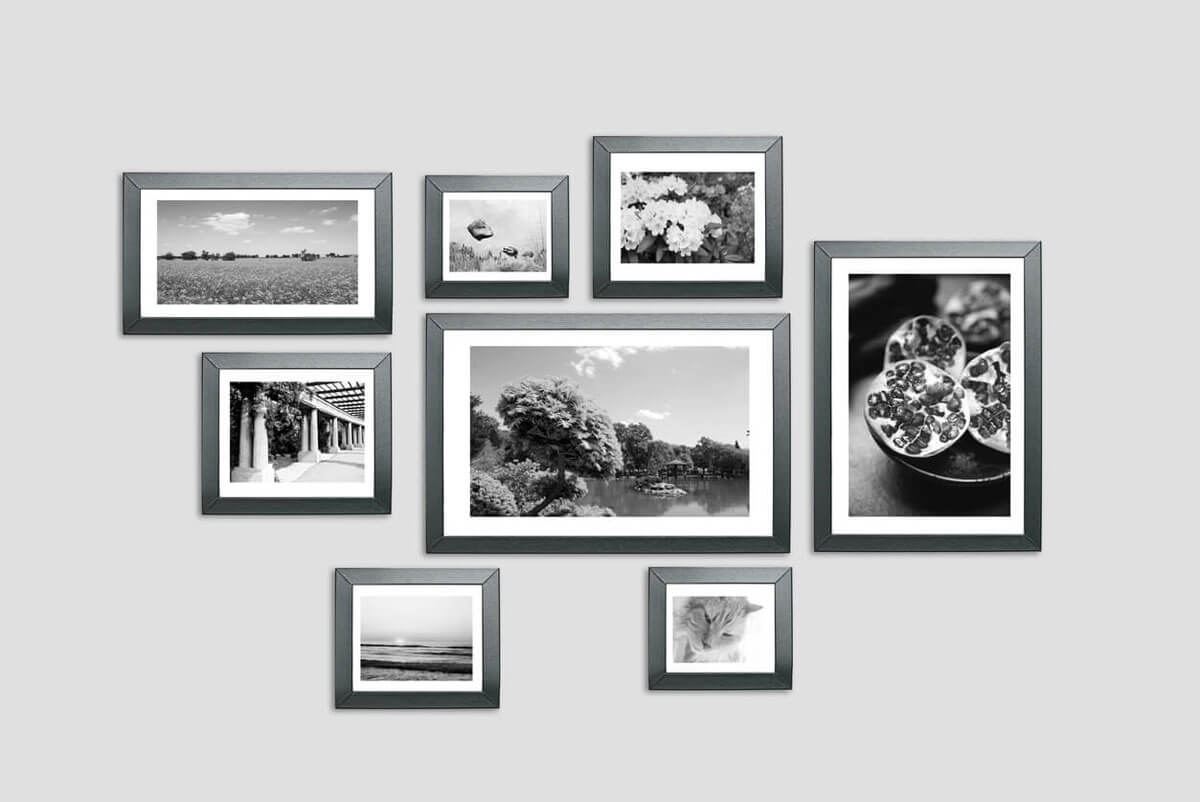 More tips for matching
Avoid filling a wall space that is too small or already cluttered.
Lay out your frames on the floor prior to hanging them up. This will ensure you get a good impression of the chosen layout beforehand. This can all be done prior to selecting frames.
To avoid making too many nail holes, try tracing around your frames on paper and arrange them on the wall so you can see the layout at the right height.
Measure space to make sure that your pictures and artwork will fit. Measure a height and width of your shape/layout and mark off where you want your pictures to start and end on the wall.
Try not to space pictures too far apart or too close together. A good balance to aim for 5-10cm between each frame.
For added inspiration, you can always gather additional creativity from sites such as Pinterest and Instagram.
Need more help? Find your nearest Frame Today store and speak to one of our picture framing hanging our experts today for more ideas. We can help you arrange by theme, colour or shape and pick out matching frames that work best for your ideal space.