Date: 07/06/2022
How To Frame A Mirror
How To Frame A Mirror
Mirrors are one of the most essential pieces of décor in interior design. Typically used to create a sense of space or lighten up a darkened room, mirrors are known for their functionality and versatility when styling. If you are looking to elevate your home design with a mirror, there are several things to consider. Our article provides an expert guide for framing a wall mirror, finding a mirror for your frame, custom framing and ready-made mirrors.
How To Make A Mirror Frame
A great way to update existing mirrors in your home is to DIY your own custom frame. Particularly in bathrooms where a generic builder's mirror has been installed, DIY-ing your own frame is a cost-effective solution to changing the look and feel of your space. Framing a bathroom mirror also can be used to hide damages or imperfections on your mirror such as de-silvering to uplift and refresh any room.
Measure Your Mirror
To start creating a custom mirror frame yourself, first measure your existing mirror on the wall. Consider objects located close to your mirror that cannot be removed such as mirror clips, light switches, power points, towel rails, countertops, shelving and more. These irremovable items should be factored into your measurements and final mirror design. This can also be used to determine whether you are able to frame around the exterior of the installed mirror or if you should frame on top of the mirror.
Cut The Baseboards
Once you have your mirror measurements you can determine the amount of wood needed to create your frame. Here you can also decide on the width of your boards and the shape and style of the frame you will require. To create a typical rectangular frame, you will need to cut each board at a 45-degree angle making an interlocking frame. Head to your local hardware store to pick up your baseboards along with any paint and other materials. If you do not have access to a mitre saw at home, the hardware store may be able to cut the baseboards at 45-degrees for you.
Paint The Mirror Frame
After cutting your baseboards to size, you can begin painting the wooden pieces. It is recommended you choose oil-based paint over water-based paints and other alternatives for bathrooms and wet areas to ensure the longevity of your frame. It is important to paint both sides of the backing as the backside of the baseboards will be visible once installed in the mirror.
Paint is a great way to elevate the visual appearance of any space. You can use your paint colour to pick up on other colours within your room, choosing a complementing colour or match it to your counter for a cohesive design style.
Sanding The Baseboards
After the paint has dried using a fine sanding pad, lightly sand all framing pieces and wipe down with a tack cloth. This provides the best foundation for sealants, frame finishes and more.
Sealing Your Mirror Framing
Once all pieces have been sanded, it is time to apply a topcoat of paint or a sealant. This is when you can choose the sheen and finish of your frame. There is an abundance of options to complement any design style from matte to satin, semi-gloss, high-gloss and more.
Consider the finishes of other décor elements within your home already such as cupboards, picture frames, other mirrors and so forth. Matching your mirror finish with other pieces within your home can create a cohesive feel to your space.
Install The Mirror Frame
Once the topcoat of sealant or paint has dried, it is now time to install your frame onto the mirror. Use superglue or another adhesive to install the pieces onto your mirror, starting with the bottom piece and working your way to the top. Ensure all sides are level after applying each frame piece and use painters' tape to keep the baseboard secure while it dries. Remove any excess glue that may get onto your mirror before it dries.
Final Mirror Frame Touch-Ups
Once the frame has been installed on your mirror and dried, you can add any final touch-ups to your frame design. This can include using caulk to seal any gaps between your interlocking wooden frame or adding a final coat of paint if needed.
Now you can sit back, relax and enjoy your new DIY framed mirror!
How To Frame A Mirror: Summary
Measure The Mirror
Cut Baseboards To Size
Paint The Mirror Frame
Sand The Frame Baseboards
Seal with Paint Topcoat or Sealant
Install The Mirror Frame
Final Mirror Frame Touch-Ups
Purchasing Ready-Made Framed Mirrors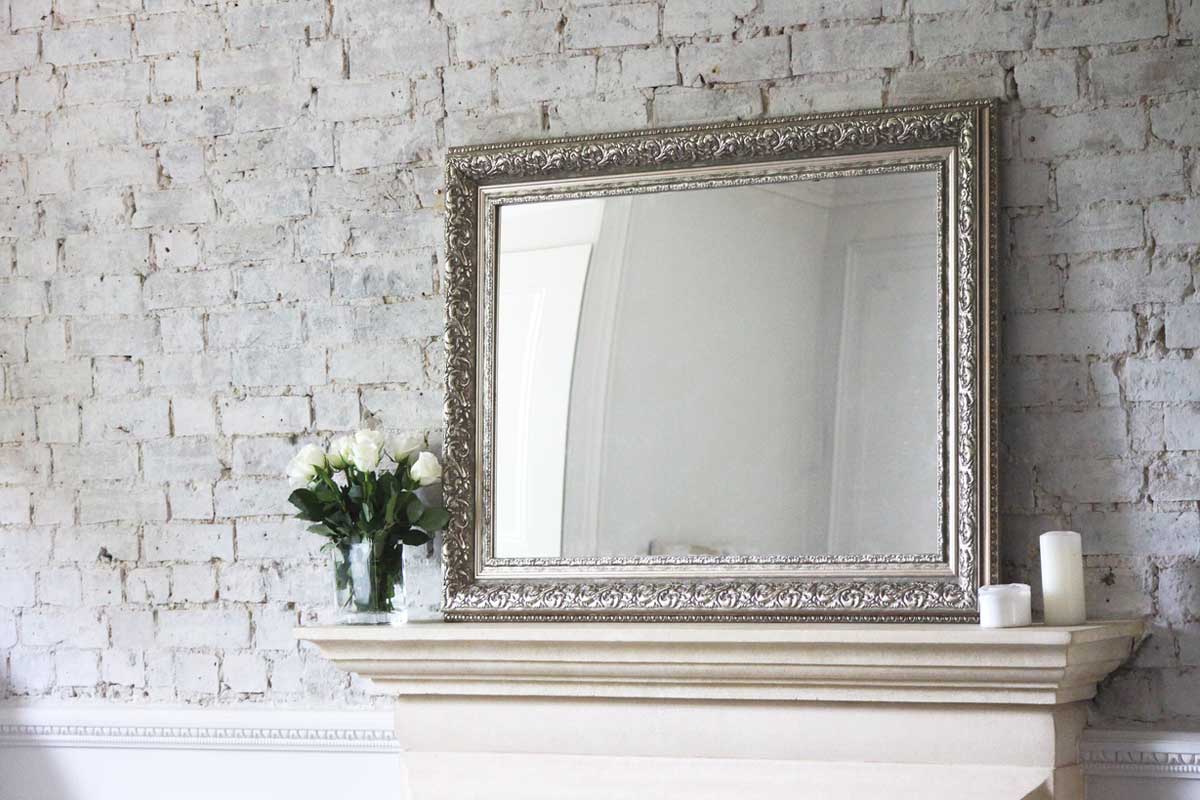 If you are not a DIY kind of person or are looking for a time-saving solution to finding the perfect mirror for your space, a ready-made mirror might be the best option for you. Our Frame Today stores have an abundance of mirrors to meet your design needs from free-standing to hanging mirrors. Each of our framed mirrors is also complete with the highest quality glazing to ensure longevity and the protection of your glass.

Whether you are after a metallic mirror frame, matte mirror frame, glossy frame or an ornamental frame, our ready-made mirror collection has something to suit. Our mirror range also has framed mirrors in a variety of shapes such as square, rectangular, arched, circular and more. Different shapes can be used to provide visual interest to your space, by contrasting other elements in your home.
An arched free-standing mirror is a great option for placing along a wall or in awkward empty corners of your space. While a circular mirror could be framed on your wall to provide dimension and depth. Our framing specialists in-store are also able to offer their expert advice in terms of finding the right sized mirror for your space, from small apartment living to a family home.
Ready-made framed mirrors offer a stylish and convenient solution to enhance your home décor. Explore our frame mirror range at a local Frame Today store near you.
Custom Framed Mirrors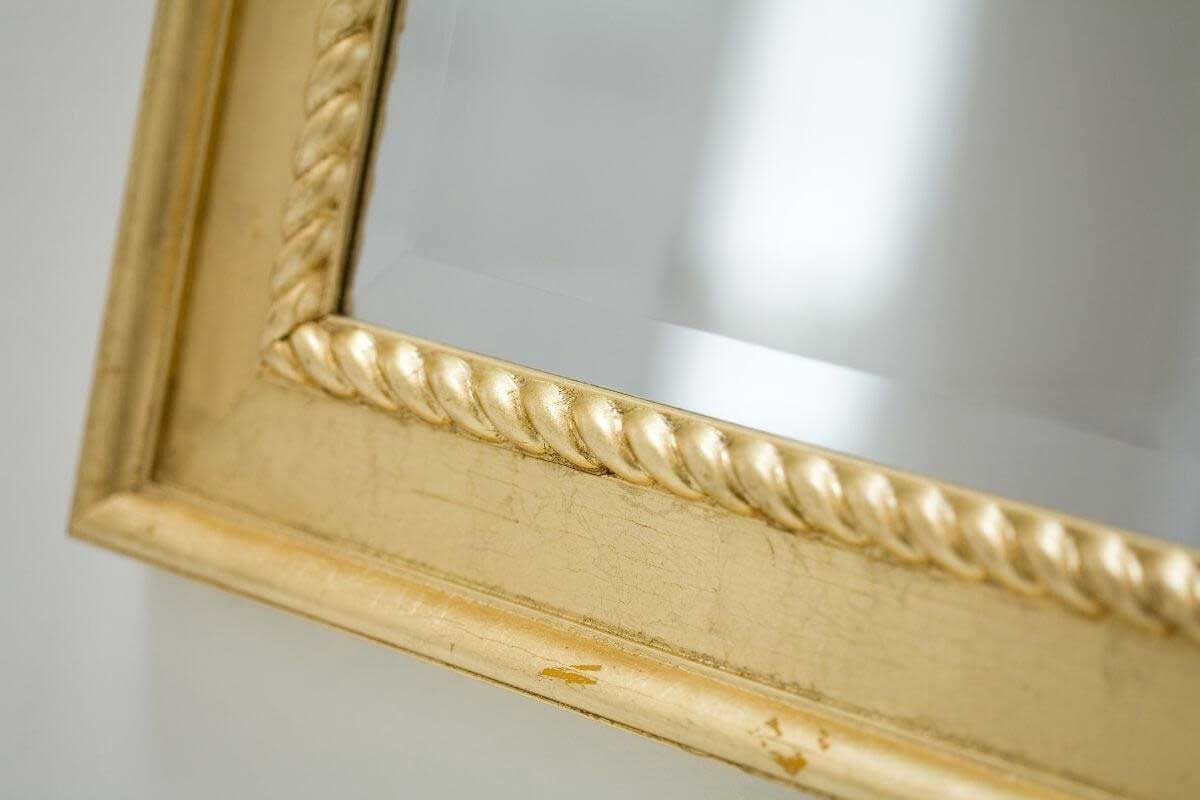 For the ultimate style statement, a custom framed mirror could be the design element you need to tie your space together. Not only are custom framed mirrors tailored to your exact tastes, but they are crafted specifically with bespoke dimensions to suit the size of your space. From custom fitting mirrors in alcoves to full-size vanity mirrors that maximise your space, a custom framed mirror offers indulgence, design sophistication and refined elegance to your home.
Going down the custom framed mirror route means that you can choose any custom picture frame coving a range of widths, colours and styles.
All of Frame Today's custom mirrors are crafted in our Australian workshops by a Picture Framers Association Accredited Expert. This gives you confidence that your mirror is not only of the highest quality but it is also built to last. Our framing specialists also offer assistance across the entire design process from measurements to design and installation.