Date: 30/06/2021
Eight Unique Items We've Framed Lately
At Frame Today, we're best known for our Same Day Framing of photos and artwork. But we also specialise in framing physical objects that hold significant or memorable value for our clients.
These requests are usually limited to football jerseys, toys and family heirlooms, however once in a while we receive some interesting requests which we are more than happy to oblige. After all, with over 15 years of framing experience, we are the experts in what we do!
Here is a gallery featuring some of the most unique things we have been able to frame over the years!
1. Steel Panther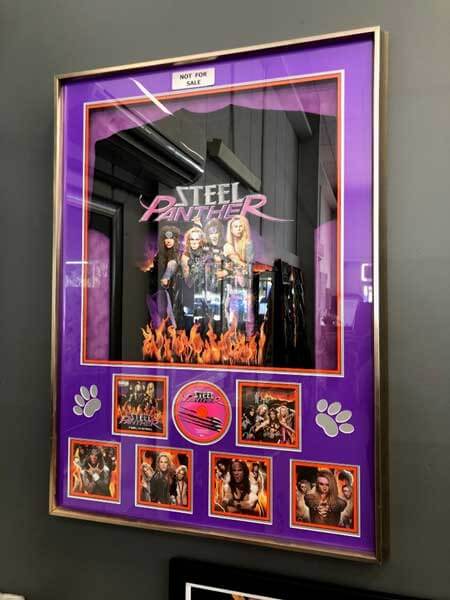 Steel Panther are an American 80's parody band known for their outlandish onstage behaviour & graphic lyrics. Our customer gave us free range to get creative and provide him with a one-of-a-kind memorabilia showpiece.
What we did: No expense was spared on this project – incorporating suede float, conservation grade triple top mats (with added panther print cut-outs), conservation UV-treated glass and a pewter silhouette edged frame to enhance all that bling! This memorabilia piece will always be a conversation starter.
2. Venetian Mask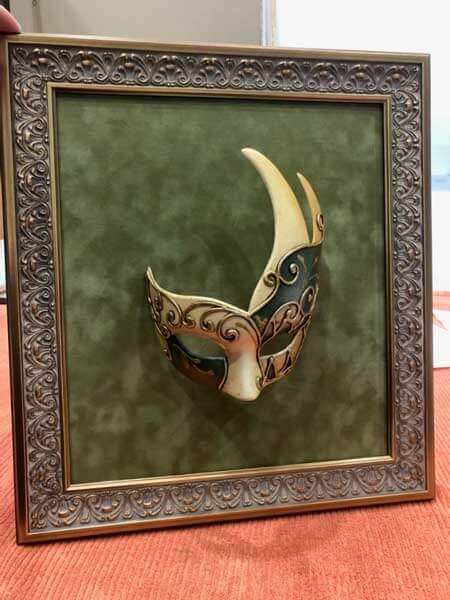 Simple yet stunning! This venetian opera mask was the smaller one of a set of two.
What we did: The customer requested that both masks were to appear to be floating in the frame, rather than boxed into it. It was important to add a touch of period charm with the framing choice as well as the allure of elegance with the tactile suede matboard.
3. Ricky Martin's Toastie and Seal's Sausage Roll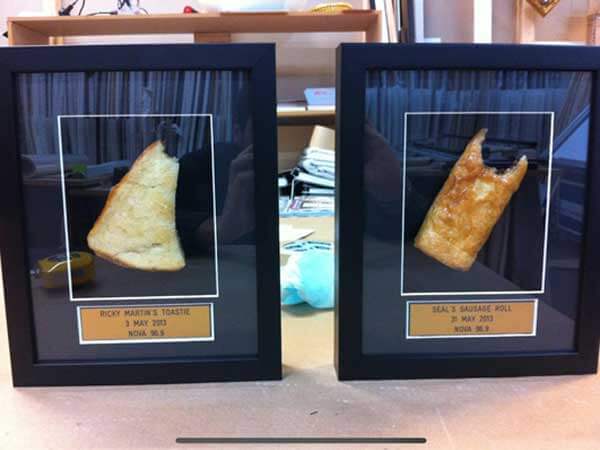 Yes, that's right… we can even frame food! Our framing consultants in one of our Sydney stores received this very unusual request to frame a toasted sandwich and sausage roll, both of which had bites taken out by the celebrities themselves. The framing was requested by a radio station following interviews with each for The Voice Australia.
What we did: While the longevity of framing is less important in this case (the food is real, unpreserved and unlikely to last long), there were still a number of challenges to solve to ensure these soft objects were held in place and complemented by plaques, double opening whitecore mats and black box frame.
4. Opeth Musical Memorabilia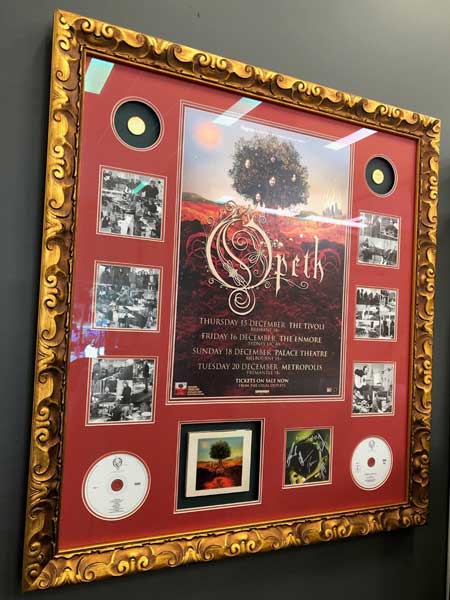 A classical design for a Swedish progressive heavy metal band. This belongs to the same customer that requested the framed Steel Panther memorabilia. His goal was to encapsulate the content provided to tell the story of his journey following this band and his VIP experience meeting them backstage.
What we did: Once again, no expense was spared – conservation grade all the way including beautiful ornate gold frame, matboards and glass, so this story can be enjoyed for years to come. Check out more custom framing jobs like this on our Instagram profile.
5. Firefighters Tools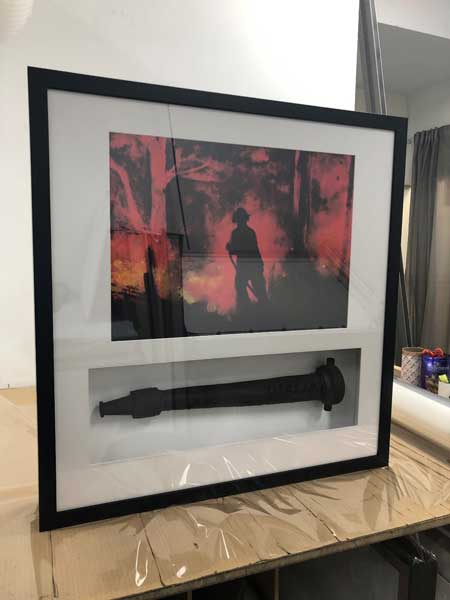 Having recently retired after many months of fighting the devastating 2019/20 bushfires that ravaged much of NSW, this heroic firefighter's wife and daughter wanted to celebrate his many years of service to the Rural Fire Service (RFS).
What we did: We created a box frame with a 3D opening to encase this vintage brass and copper firehose nozzle. Above this we cut a second matboard opening to insert a photo of a firefighter battling the inferno during that devastating summer. Happy retirement.
6. Lego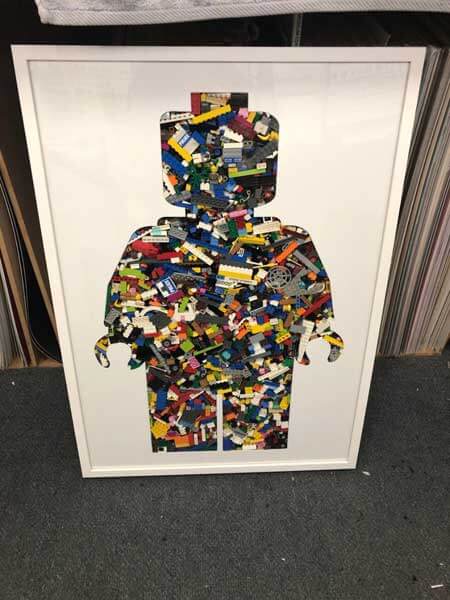 What could be more fun than a giant LEGO man? This item was a gift for our customer's husband who was an obvious LEGO fan!
What we did: The project provided us with several technical challenges due to the total weight of hundreds of LEGO pieces supplied to us, as well as the difficult design aspect of the LEGO man template. Despite this, we were up to the task and eager to help our customer with this unique gift. We have used this design several times since, although on a much smaller scale. A truly novel way of showcasing one's passion for LEGO.
7. Chinese Fan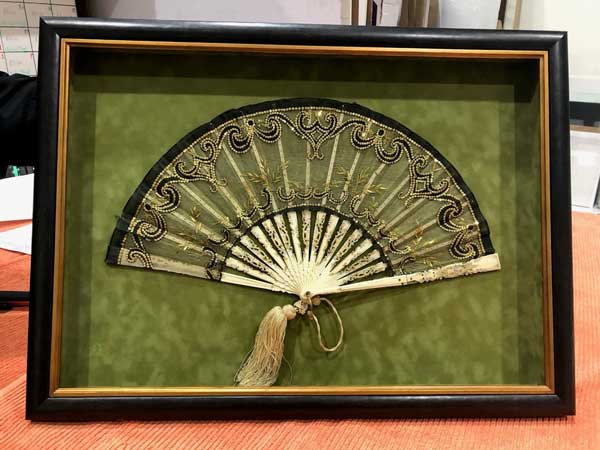 A family heirloom to last for generations! This intricate, ivory boned Chinese fan was in desperate need of safe preservation. Our customer was extremely apprehensive about leaving this beautiful item in anyone's care, so regular progress updates were provided to reassure them each step of the way.
What we did: Our team provided a full museum conservation grade service including a soft suede matboard, museum glass with absolute clarity, gold foil slip frame to enhance the fan and a superb fine Italian Bellini moulding. The result is this sublime finished product, which is now an absolute gem to be enjoyed for years to come.
8. Retirement Pliers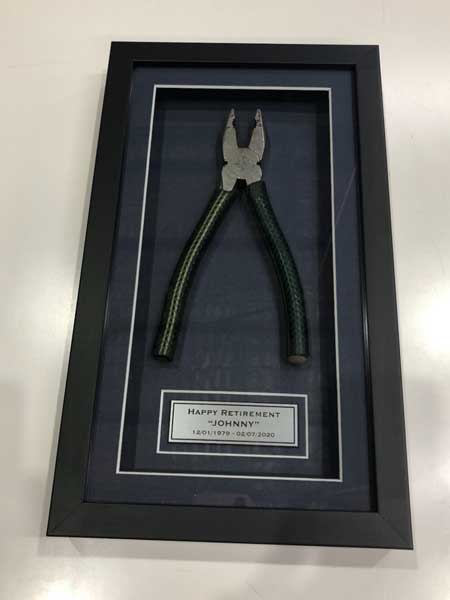 Happy Retirement Johnny! What a thoughtful gift to receive from your work colleges after many years of loyal service. Our customer was careful taking these pliers when Johnny wasn't looking, so they could organise this surprise gift. It's obvious that the pliers have been used on a regular basis – note the handles are covered with pieces of garden hose for easy handling and the initials scratched into the head of the pliers, "JD".
What we did: Simple box framing with double matching matboards and a personalised plaque was all that was needed to provide Johnny with a treasured memento that will last a lifetime.
Find out more about our memorabilia framing services. Contact our team using the enquiry form below or visit your nearest store to speak to an expert.
Note: Memorabilia framing requires more time than can be provided as part of our Same Day Framing due to the specialist materials required and extensive work involved.