Date: 16/08/2021
Introducing Our Online Photo Printing Service!
There's no reason to keep your memories locked up in your phone's camera album. Whether it's a snap of their first steps, a family group shot from last Christmas or that view from the top of the mountain hike, our memories deserve to be out on display for everyone to see.
But the challenge can be finding a quick and easy service that offers the high-quality photo printing your pictures deserve. Frame Today has made digital photo printing even easier with the launch of our online photo printing platform!
In three easy steps, you can also take advantage of our custom framing technology for a fraction of the cost. Bring your favourite memories to life and have them ready to hang within days.
Upload your photo
Securely upload your photo to our online portal here. Resize and edit your photo to your specifications. The editing tool will allow you to crop or edit the image as you'd like to ensure the final product comes out exactly as you'd like.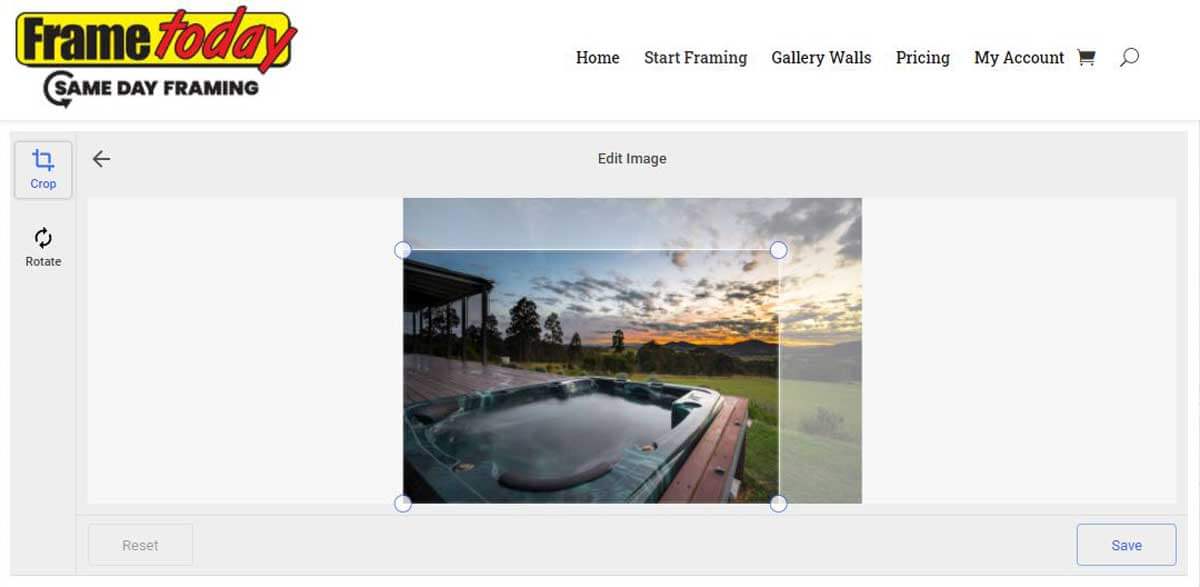 Select your choice of framing
We know how hard it can be to decide on the right size for your picture frames, so we've gone ahead and done the hard work!
Using your image dimensions, our platform automatically detects the best picture frame dimensions for square, landscape and portrait images. If you'd like a different size, it can also recommend other sizes within the same ratio to pick from. This lets you pick between larger sizes for the main living rooms or something smaller for your bedroom or study space.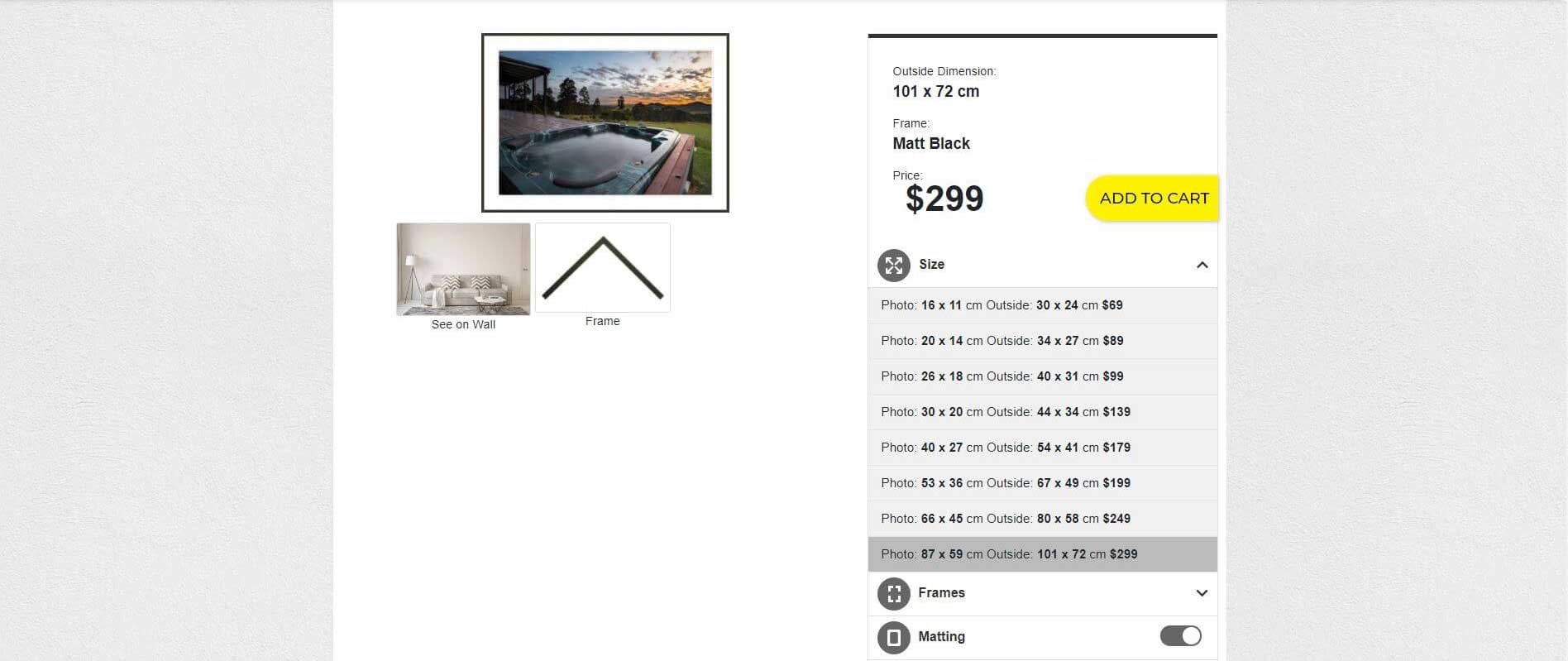 Next is the photo frame selection. Available colours are:
Gold
Dark Wood
Silver
Light Wood
White
Black
Our frame range is also available as part of our standard ready-made collection. Each frame is locally made by hand in our own factory, so you can be confident in the final quality when it arrives!
Need a layer of extra padding? As part of our online photo printing service, we can add a thin acid-free matboard to your frame. Not only is this a creative way to add depth to the image but it's also handy as a protective barrier between the photo and the glass. When placed correctly, the matboard will prevent moisture from building up which can otherwise damage the artwork.
Finally, don't forget to pick your choice of regular or invisible glass (glazing): regular glass or an invisible option for that gallery feel!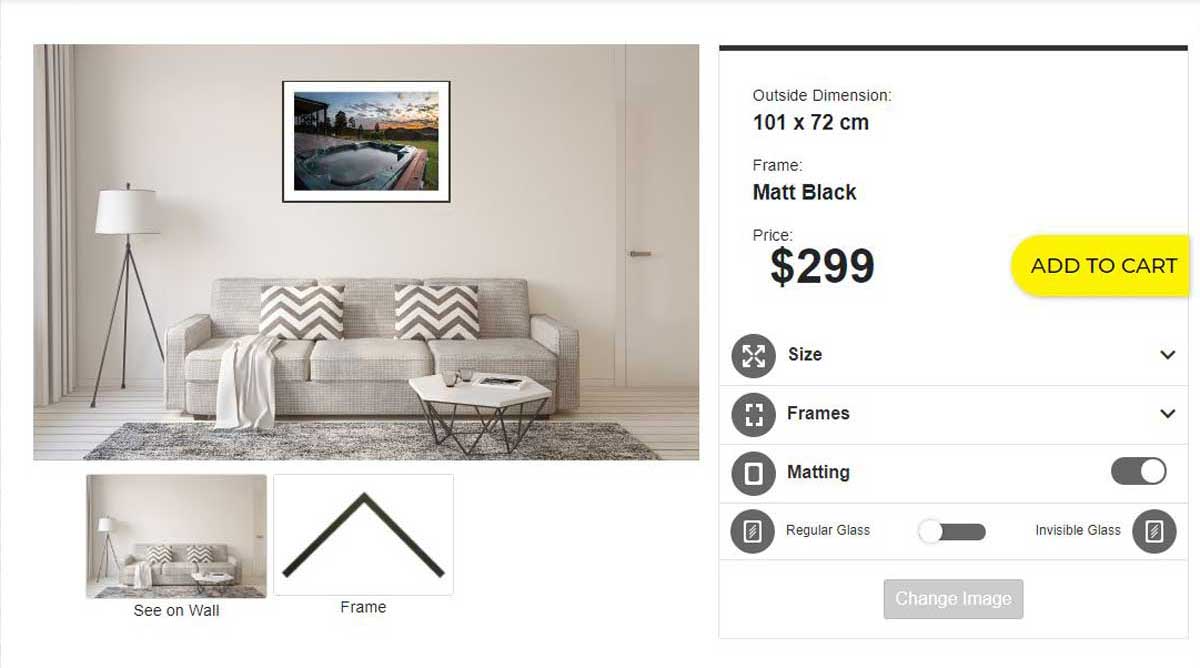 Now you're ready to Add to Cart!
Order securely online
Follow the instructions to review your order and complete the check out as you would. From here, our expert framing consultants will take care of the rest.
Your photo is professionally printed using our specially designed, wide-format 44" Epson SureColor P10070 printer (used for high-quality photographic and fine art reproductions). From here, it is assembled into the frame and carefully packed to prevent any mishaps along the way.
Within 5-10 business days, you can have your very own framed image, from Australia's best online photo printing service, at your door and ready to hang. Every online picture or photo framing order, like all our work, is backed by our lifetime guarantee.
So, what are you waiting for?
"Although we love seeing our customers in-store, we wanted to introduce an online service that they can do from the comfort of their home with delivery to their door. This has now come to fruition with the launch of our online print and frame service so all Australians, no matter where they are located, can enjoy the quality and value our regular customers appreciate time and time again."

- Michael Tarrant (Managing Director, Frame Today)